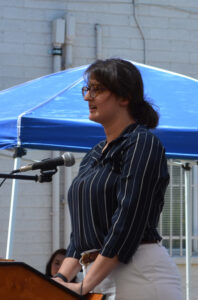 Good Morning. First, I would like to thank Khalsa Montessori School for extending an invitation for me to speak to all of you today. My name is Rebecca Paxton, a name you might recognize. Not only am I the daughter of the school's director, but I went to Khalsa myself from preschool through sixth grade. I also have worked here at the school off and on for the last 6 years. Like several of you, I graduated from school this year. I completed medical school and am looking forward to starting my surgical residency in July.
I would like to congratulate all of you on finishing another year of schooling. Three years ago, our lives were changed by a virus. For many of you that may be a quarter or more of your lives. Be proud of how far you have come and under such difficult circumstances. I know from personal experience how significantly my education and learning changed under COVID. From my mother, I know how hard the students, teachers and administration has worked at Khalsa to bridge any gaps that occurred in your education because of the pandemic.
We are now heading into a new time of our lives. COVID restrictions for better or for worse has been ended by the federal government. Many of you are leaving Khalsa and starting a new school next year. You probably have a lot of mixed feelings from excitement to nervousness to fear. It will be a big and exciting change. You will have the opportunity to meet new people and pursue new interests.
When I graduated with I still kept in touch with many of the classmates after I left Khalsa. They called me when significant things happened in their lives. We have consoled one another through our trials and celebrated our successes. If you have friends here, keep in touch with them. I made lifelong friends at Khalsa. People who will still help me move and who call me about their problems. I hope you too will have people you keep in touch with far after you graduate. There is a bond speaking with people who have gone through the same things as you and to have known people for several years.
Khalsa will have prepared you well for academic and personal success. For the last several years, you have benefited from teachers who deeply care not only about your education, but also your personhood. As you move forward, these will be fundamentally intertwined. How far you decide to take your education will in part depend on your personal discipline and responsibility. Skills that have been ingrained in you from preschool. Now you probably were not thinking that was what we were doing when we made you clean up your blocks when you made a mess, but ultimately it was our intention to ingrain habits that will benefit you for a lifetime.
Knowing how to manage your time, clean up after yourself and be responsible for your own actions will come in handy no matter what you end up pursuing. Maybe like myself, you will dedicate yourself to another 20 years of schooling or maybe instead you will pursue other less educationally intensive career paths.
However, wherever you go. I want you to know that we are rooting for you. I am rooting for you. Some of you I recognize from taking care of you in primary before I even started medical school. I remember breaking up your fights, comforting you when you cried and admonishing you when you were naughty. It has been an immense privilege to help take care of you over the years and I honestly learned a ton about leadership from working with all of you.
I will share what I wish for you in the coming year. I hope you are loved and that you find kind friends to spend time with you. I hope that you enjoy your classes and keep learning. I hope that you have fun over the summer and make a lot of memories. I hope you never give up on your dreams and the activities that make you happy. I hope you will continue to be curious and to pursue your education. Good luck! Go enjoy your summer.