Primary Campus
Shannon Pursell
Primary North Lead Teacher
Shannon Pursell joined the Khalsa Montessori team in August 2015. Shannon holds a B.A. in English from The University of Tulsa, and has completed some post-graduate work in English literature studies at Arizona State University. In 2010 she received her Primary (3-6 yr. olds) level AMS Montessori certification through the South Mountain Montessori Certification Program.
Shannon worked in a Montessori classroom for six years before joining the Khalsa staff, serving for 3 years as an assistant teacher and 3 years as the lead teacher!
Shannon loves reading, movies, and animals.

Primary North Assistant
Candy Cotto
Primary North Assistant
Candy joins Khalsa this year as an assistant to Ms. Shannon in Primary North. She completed her AMI Orientation training in 2020. Candy had practiced as a dental hygienist for more than 25 years, but she couldn't stop talking to her patients about how much she loved her son's Montessori school, so she followed her son and her heart to Khalsa. She has been a Khalsa parent for 6 years and has spent many hours observing and volunteering in both Primary and Elementary classrooms. She holds a Bachelors of Science in Dental Hygiene from NAU and hopes to pursue Montessori teacher training in the future. Candy enjoys road trips, knitting, sewing and spending time with her family and friends.

Dyanna Jiron
Primary South Lead Teacher
Dyanna joined Khalsa in March 2018 as an assistant in the Primary After-School Program.
Dyanna started with Khalsa Montessori in the summer of 2018. She began as a substitute, and will now join Ms. Shannon as an assistant in Primary North. Born and raised in Phoenix, AZ, Dyann earned her Bachelor's degree in Family and Human Development at ASU. She plans to work towards her Master's in Child Psychology in the near future. In her personal time, Dyanna enjoys at-home yoga practices, going to hip-hop concerts, and spending time with her husband and her dog.
Ayden Huerta
Primary South Assistant
Ayden is an assistant teacher at Khalsa Primary. Her goals are to hopefully in the future become a social worker, a counselor for kids at a high school, and/or just be in a field where she gets to help children of all ages with their mental health.

Amy Page
Primary Upstairs Lead Teacher
Amy joined the Khalsa team in August 2016 as a Primary Upstairs Assistant. Amy attended the Montessori Assistant Workshop to further her knowledge of the Montessori philosophy.
In the past, she has worked with children ages 5-13 in volunteer programs helping young filmmakers and actors develop their skills. Through this work, she has been amazed at the creativity and advancement that they brought to their craft, which is why Khalsa is such a wonderful fit for her.
Amy is an alumnus of the Torch Theater School of Long-Form Improvisation and the Meisner Acting Program. In her spare time, she is a local film and theater actress, producer, writer, director, tap dancer, and fire spinner.
Ninfa Hartley
Primary Upstairs Assistant
Ninfa joined the Primary South classroom in August 2004. Ninfa is Montessori Primary trained and certified through the Center for Montessori Teacher Education. For thirteen years she has been a Primary South teacher: giving lessons, overseeing areas of the classroom, and leading the classroom when needed.
Ninfa is from Honduras and moved to the United States in 1992. She worked as an ophthalmologist assistant for eight years and became interested in Montessori teaching in 2002. She was an assistant teacher at Community Montessori School before coming to Khalsa.
Ninfa attended the National Pedagogical University in Honduras and has a bilingual secretary diploma. She has been a Sunday School teacher for 18 years and now is the coordinator of the Sunday School program at her church.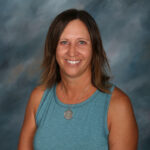 Gretchen Sjoberg
Primary Upstairs Assistant
Gretchen was raised in Flagstaff, Arizona, and has worked in multiple school settings. In addition, she has been a mentor at Phoenix Youth at Risk. She has volunteered in orphanages in the Czech Republic, Ukraine, and Mexico. She has also coached youth soccer with two different organizations. Gretchen completed early childhood development classes at Paradise Valley Community College. She believes in the power of great mentors and teachers and has dedicated her life to pouring positive messages and experiences into children.
"A hundred years from now it will not matter what my bank account was, the sort of house I lived in, or the kind of car I drove…but the world may be different because I was important in the life of a child." – Forest E. Witcraft; Teacher, Scholar
According to Gretchen, "This quote speaks to me as it reflects my passion for children. Thank you for this opportunity to teach, coach, mentor, and love your children!" April Huston
Primary/ Toddler Assistant
April joined Khalsa in August of 2021 as an assistant to various teachers and classrooms. She has been married for 27 years and is a mother of three children. With her kids growing older and leaving the house she still felt a desire to care for kids and help them learn and grow. Her nieces have attended Khalsa which inspired her to get involved at the school. April is young at heart and finds joy in spending time with her family and friends, playing video and board games, going to see live theatre, and watching movies/shows.
Revay Cargo
Toddler North Lead Teacher
Revay Cargo was born and raised in Phoenix, Arizona. She has worked in many different school settings as an assistant along with being a lead. She is currently in school becoming Montessori certified. She strongly believes teaching is her passion and agrees with Maria Montessori when she said "Early childhood education is the key to the betterment of society." Besides being a Montessori guide, Revay enjoys spending time with her loved ones, having movie nights, baking goodies, and going on bike rides.
Erindida
Moron
Chloe Clift
Toddler South Lead Teacher
Chloe joined Khalsa for the 2019-2020 school year as a new Toddler Assistant Teacher. She worked with both North and South Toddler classes as well as After School Care. In 2021, Chloe took the role of Lead Teacher. Chloe was born in Southern California and has traveled coast to coast as a professional Traveling Nanny for the past six years. In her spare time, Chloe loves to Bake, explore the outdoors, and goes country swing dancing on a weekly basis.


Jill Woodhull
Primary Outdoor Environment
Jill joined Khalsa in March of 2018 in the accounting department. In addition to her accounting role, Jill is the Outdoor Environment Teacher at the Primary campus.
Jill grew up in Arizona and graduated from Arizona State University with a degree in Fine Arts. She has been a parent of Khalsa children for the past 7 years. She enjoys travel, hiking, reading, and any activity that is with her family.
DoJshana Smith-Washington
Primary After Care Director
DoJshana "Doshi" Smith-Washington just joined Khalsa Montessori Primary School as the After Care Director. She was a graduate from Indiana State University that majored in Human Development and Family Studies and minor in Dance.  She previously came from a behavioral facility for at risk youth, which she knew her passion was to worked with adolescents to guide and teach daily fundamental function for their everyday life. She is excited to be working with a younger age group and being a positive light in their life. In the meantime Doshi loves being a mentor to youth, cooking and especially dancing. You will see a lot of positive dance movements and yoga during the After Care Program.