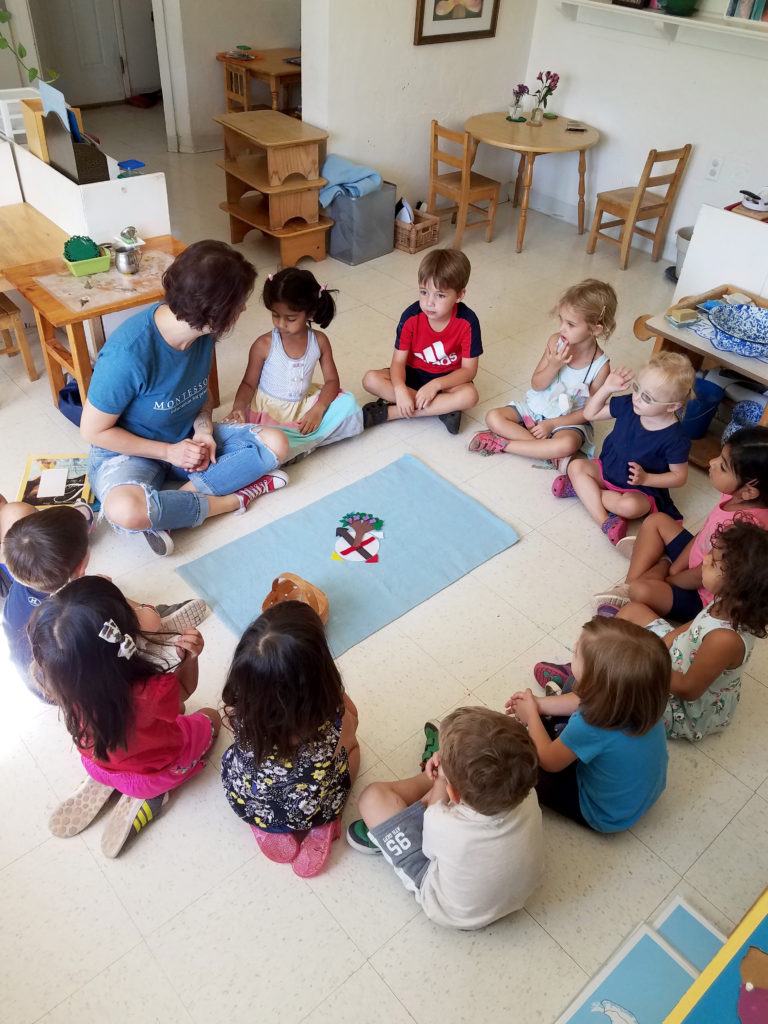 Join Us
"The education of teachers who are able to kindle flames rather than just fill vessels is not easy." – Maria Montessori
In the spirit of the Montessori Method, it is important to us at Khalsa to allow individuals to find where they are most fulfilled and a situation where their unique skills can be best placed. The Montessori Method is philosophically different from other educational methods, and also very different from the personal educational background of most adults who become Montessori teachers. Working in a Montessori classroom isn't for everyone. But those that are a good fit will find they flourish and thrive in this environment.
A teacher who will feel at home at Khalsa will be actively curious and always ready to learn. They should be self-driven, engaged, and take responsibility for their own personal and professional growth. The best Montessori teachers are ever observant, looking for queues that students have mastered a skill and are ready to move to the next lesson. The ability to carefully observe and guide instead of simply disciplining and taking charge is an important difference between a more traditional teacher and a Montessori trained teacher.
Teacher assistants will likewise be on the path to learning and incorporating the Montessori Method into their teaching style. In addition to being observant of the students, an assistant will provide an overview of the classroom while observing their lead teacher; thereby, learning from the lead's example, and also being a support by anticipating the needs of the classroom. The lead teacher and assistant work as a team with the common goal of providing the best learning environment for their students as possible.
Quality substitute teachers are something we are always seeking. Responsible and reliable substitutes who are passionate about helping students are a huge value. And with three campuses serving Toddlers through Upper Elementary, there is a large range of flexible hours available each month!
If you read this and find yourself eager and excited to join us, we would love to hear from you!
This is Khalsa
At Khalsa we have a strong conviction in the remarkable potential of every child, and we strive to create a holistic school environment that will nurture and galvanize this potential. Our mission is to…
Integrate a challenging Montessori education and a caring, responsible community to provide for the academic, social, physical and emotional growth of students in central Phoenix;
Offer children a holistic education in which teachers see the children as unique individuals, understand their multiple intelligences, respect their ideas, and encourage their enthusiasm for learning.
Create an environment that offers young people opportunities to reach their highest potentials:

academically, through appropriately high expectations, and a rich, self-paced learning environment that provides the cognitive tools to achieve mastery and build confidence;
creatively, through the integration of a variety of avenues for creative expression such as visual arts, creative writing, drama, music and public speaking.
physically, through the integration of fine and gross motor movement within the curriculum, and through activities to encourage physical fitness, cooperation, nutritional awareness, mind/body discipline, and yoga;
socially, through an environment where children may develop independence, personal meaning, responsibility and respect for themselves, others, and our world;

Build a partnership of students, families, teachers and administrators who create an environment that lays the foundation for those habits of mind that support happiness and success both in school and in life.
Perks & Benefits
Below is a list of some of the employee perks and benefits offered by Khalsa Montessori:
Health Insurance: We offer medical, vision, and dental insurance to our full-time employees.
Paid Time Off: Along with accumulated sick and personal time off, Khalsa staff enjoy 8 paid national holidays.
Additional Time Off: Due to the school year calendar, employees can take advantage of a two-week winter break, a one-week spring break, and summer break. Depending upon an employee's job description, this time may be paid or unpaid.
Retirement Savings Plan: Full-time employees may participate in the Khalsa 403b Retirement Savings Plan. After one year of service, Khalsa will match and contribute up to 2% of the employee's salary.
Child Care: Teachers whose children are enrolled at Khalsa will receive no-cost extended care.
Private School Tuition Discounts: Full time employees, after one year of service, will receive a discount on their child's Khalsa Montessori School private school tuition which becomes 100% after ten years of employment.
Professional Development: Full time employees receive annual professional development. Professional development includes local workshops. Lead Teachers after two years of employment are provided with financial support to attend a National Conference.