Welcome to the Khalsa family! We understand that starting a new school is very exciting but also brings a certain amount of anxiety. We hope to share a few details that will help you start the school year off right!
What to Expect
AM Care is offered for early-arriving students from 7:30 to 8:00.  Families may register for AM Care by semester, or pay a daily drop-in fee of $5 per day.  There is no fee when a student arrives after 8 am.  Before school starts, students are free to play out on the yard with their classmates until everyone is assembled at 8:30 for the pledge.  At the elementary campus, an orange flag will be placed outside the front gate once the pledge begins.  If a student arrives after the orange flag is out, that student is tardy and must have their parent sign them in on a form in the front office.  Primary parents will need to notate the time of arrival or departure in the Department of Health Services sign-in book.   If your child is going to be absent from school, please call the front office.  Primary students arriving after 8:30 may be sent home to return at 11:30 for lunch/recess and the afternoon. We will allow for exceptions due to emergencies or appointments (educational or health) that are communicated to the office in advance.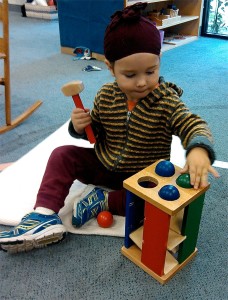 If you are dropping off any items for your child after the start of class, please leave them in the front office.  Never enter a classroom in progress unless you are coming for an observation.  If you are coming to the school for any reason during the school hours, you must check in at the front office and wear a Visitor's Badge.
Your child must bring their lunch in an IGLOO-type insulated lunchbox.  Please do not send lunches in paper or plastic bags.  They leak and cause damage.  Lunchboxes will be stored outside on the patio and can be sent with a cold pack to keep them cool until noon.  If you bring your child's lunch late, please leave it in the office.  If a child does not have a lunch for some reason, we first ask them to go look in the office to see if one has been dropped off.  If this is not the case, we usually ask the other children if they would like to share something with the person who has no lunch.  The children may play after the class has finished eating and cleaned up, unless they need to work at recess time.  We ask students to choose to either outside playing or inside working for the entire duration of recess. This is to ensure that the teachers can safely monitor recess.
Recess is free, unstructured time.  Keep in mind that in a Montessori class, the children are free to move, choose, and work most of the day.  The need for release of pent up energy is not the same as in a more traditional classroom.  Please have your child wear closed-toe running shoes to school each day so that they are always prepared for physical activity at recess, P.E., outdoor games, or field trips.  They should also always bring a water bottle to school.  Some students choose to leave a water bottle here at school.  Please make sure it is labeled.  To prevent dehydration, those who don't have water bottles cannot participate in P.E. or other outdoor activities.  Everyone is required to participate, unless they have a written excuse.  Cooperation is emphasized over competition.
Once the school year is in full-swing, students will begin participating in P.E., gardening, yoga, and Spanish throughout the week.  Extracurricular activities will also begin in September.  Any Lower Elementary students who have siblings in Upper Elementary will be supervised by staff members until the older students are released at 3:30.  Students who have signed up for extracurricular classes will also be supervised by Khalsa staff until classes commence at 3:30.
What to bring on your first day
All elementary students were given supply lists indicating materials to bring on the first day of school.  Primary students should bring an extra change of clothes to be kept at school. For napping children, it is required that they have a bag they can carry left at school for their fitted crib sheet and blanket. These must be picked up every Friday for cleaning and returned Monday. Nap items will be placed on the outside shelves for you to take home for cleaning.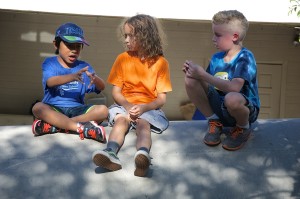 Students will need sturdy backpacks for homework, books, and folders.  Each child will need a small labeled Igloo-type insulated lunch box with an ice pack for keeping food cool.  Freezing your child's juice container is another way to keep lunches cool until noon.  We do not supply napkins, spoons, etc. Please do not send your child to school with any glass containers.  Your child should come to school with containers he or she can open without instruments.  Students should also bring a water bottle to school every day.  When P.E. classes begin are also permitted to bring water bottles with a carrying strap.
Student must wear clothing conducive to a non-distracting classroom atmosphere.  Pants should fit on hips, no inappropriate language on clothing, no inappropriate or revealing clothing, no hats in class, and girls should wear shorts under dresses.  No flip-flops, cowboy boots, or heels.  Gross motor activities are enjoyed and experience in shoes that are easy to move in and offer support, like running shoes or sturdy closed-toe shoes.
Please do not send your child to school with toys, dolls, sticker books, make-up, trading cards, cell phones, or other non-educational items. Inappropriate items brought to school will be confiscated.
Drop off and Pick up Lines
PRIMARY DROP-OFF:
Always enter the school driveway from the east (7th Street) side and exit to the west (3rd Street) side.
Morning Drop Off Service 7:55-8:25 A.M.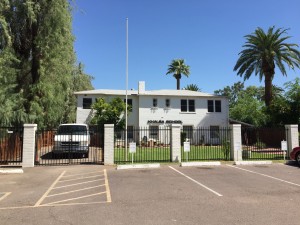 The only legal parking before 9:00 on Coronado is on both sides of the green curb. Our drop off procedure is designed for your convenience and also to help you with the morning separation. The procedure is to pull into the driveway as far forward (west) as possible and remain in your vehicle, having your child ready to exit on the passenger side.  One staff member will open the door and help your child out while another hands you the sign-in book. Sign in using your full name.  A staff member will lead your child to the backyard.  Exit carefully onto Coronado. This exit is blind to traffic coming from our neighbor's driveway.
If you need to come into the school to speak to a teacher or the administration, drop your child off and then park and return. If you need to leave a message, feel free to give it to the morning greeters. They will have a clipboard for messages to be transferred to teachers or the office.
Drop-Off Before 8:00 And After 8:30
Park your vehicle in the available parking spaces on either side of the "Green Zone". Never leave an unattended vehicle in the circular drive-through and never park in the teacher's reserved parking spots between 7:00 and 3:00 p.m.!

Before 8:00, walk your child to the backyard and come to the office or to a Morning Program Teacher.
After 8:30, bring your child to the office. The school office staff will bring your child into the classroom if your child is to be accepted. Do not bring students into the classroom or enter through the classroom doors when the class is in progress unless you are coming to observe.

Sign and list drop-off times on the "Sign-In" sheets for all children you have transported.
Exit carefully onto Coronado. This exit is blind to traffic coming from our neighbor's driveway.
Parking
Please park on the outside of the green curb.  Never park in the teachers' spots before or during school.  Never, ever leave your car in the drive-through. This continues to create problems for staff members and other parents and is a Phoenix Fire Department safety issue!  Never park in the adjacent businesses in the area. You will be ticketed or towed at your expense.  Due to continued violations of these policies, we may resort to tickets. After two reminders you will receive a $5.00 parking ticket for each illegal parking in our drive-through or teacher designated parking space.
PRIMARY PICK-UP:
Afternoon dismissal time is 3:00 P.M.
From 2:50-3:10, use the pick up service by pulling your car as far forward (west) as possible. Please remain in your car, if you need to speak to a teacher or find an item with your child, please park and walk into the building. Staff members will help your child come to your car in the driveway. You must pick up your child on time or they will be taken to the backyard and a late fee will be charged.
Before 11:30 AM or between 12:30 & 3:00 PM
Please do not interrupt class or nap time by picking up your child during these times unless absolutely necessary. If it is absolutely necessary, come to the office to inform the secretary that your child is being taken off campus and wait while the secretary gets the child from the classroom or nap room.
Between 11:30 AM & 12:30 PM and between 3:00 and 6:00 PM
Come to the backyard or inside activity room. Inform at least one staff person that you are taking your child off campus. Sign out as usual and please remember that acknowledgment by a staff member is critical. Half- day pick up must be before 12:30.
You must inform the office if a non-parent will be picking up your child. If you have not informed the school, you will be called before the child will be released, even if the person picking up the child is designated on the blue emergency, immunization & information card. No child will be released to a non-parent if authorization has not been communicated directly to the office.  If you have a non-parent person picking up your child on a regular basis, please bring that person by the office to meet the office staff and sign the blue card.  Please make sure that you inform anyone picking up your child of the following Khalsa School pickup procedures:
ELEMENTARY DROP-OFF:
During morning drop-off and afternoon pick-up, ALWAYS enter from Virginia and exit onto 3rd Street.
Lower and Upper Elementary both begin at 8:30.  Your child may arrive half hour before this start time, at no charge, to allow for play and socialization before class begins.  Please have your child ready to exit your car when you arrive for morning drop-off.  Drive your car to the gate and have your child exit quickly.  Help us avoid drop-off delays and backing traffic onto Virginia Rd.  NEVER leave your child unattended in the parking lot before the gate opens at 7:30.  The gate will only be unlocked when the staff member in charge of AM Care is ready to monitor your child.
ELEMENTARY PICK-UP:
Lower Elementary pick-up times are between 3:00 and 3:10, and Upper Elementary pick up times are from 3:30-3:40.  Students will be in the front yard waiting by the gate, monitored by a staff member.  If your child is not at the gate when you arrive, you must park, pull forward along the center island, or rotate to the end of the line.  Never block the pick-up by waiting for your child! If you use the drive-thru pick-up method, you must stay with your vehicle at all times.  Children not picked up within the 10-minute grace period will go to Khalsa Afterschool Care, the elementary campus after-school care program.  In case of an unforeseen change in your pick-up time, call the office and a message will be communicated to your child.  All individuals picking up your child from school must be authorized to do so and listed on that student's Emergency Contact blue card.
TODDLER DROP-OFF:
During morning drop-off and afternoon pick-up, ALWAYS enter from Virginia and exit onto 3rd Street.
The Toddler school day begins at 8:00 AM.  If students need to be dropped off between 7:30 and 8:00, families can enroll for extended care.  There is a 10-minute grace period for dropping off students between 8:00 and 8:10.  Parents must park their car in one of the five East parking spots bordering Virginia, and walk their child in through the Virginia gate entrance.  In the lobby, parents must sign in their child in the class sign-in book.  Excessive tardies may lead to a discussion with the lead teacher or an administrator.
TODDLER PICK-UP:
Toddler class ends at 3:30 daily.  Similar to drop-off procedure, parents must park, come in through the Virginia Street entrance, and sign their student out in the book located in the lobby.