Keerat Giordano
Director / KMS Board of Directors, President
Keerat Giordano is the Director of the Khalsa Montessori School. She is the President of the KMES and KMPS Board of Directors, having served as a member for the last 6 years. With the Khalsa Administrative team, she is responsible for the operation and management of the school. Due to her interest in the Montessori philosophy she also oversees educational decisions with input from the teaching team.
Keerat joined Khalsa School in October 2000 assisting in the Lower Elementary classroom and working with students of all age groups ranging from primary to middle school. In the spring of 2001, Keerat joined Jaswant Kaur Khalsa as her Upper Elementary assistant and she subsequently assumed responsibility as Upper Elementary Lead Teacher. Since 2010, she was part of the Administrative team as first, the Assistant Director and the Co-Director of the school.
Keerat has a Master's Degree in Microbiology and Biochemistry from St. Xavier's College, Bombay, India and a Master's degree in Biomedical Sciences from the University of Connecticut. Keerat completed her Montessori Assistant training through the Arizona Consortium of Montessori Charter Schools. She completed her lower and upper elementary Montessori training in 2004 through CMTE/NY.
In her spare time she enjoys traveling, reading, experiencing various cultures, learning German and now seeing human development unfold, firsthand, through her toddler.
Tom Caglio
KMS Board of Directors, Vice President
Thomas Caglio is a Community Representative and former Parent Representative on the KMES and the KMPS Board of Directors. He serves as the Vice-President for both boards. Tom recently retired from the Phoenix Union High School District where he served as a Systems Analyst in the Curriculum Division and gained expertise with regard to computer programming and statistics. Two of Tom's children have graduated from the Khalsa School and one is currently a Khalsa Montessori lead teacher.
Karen Paxton
Primary-Toddler Director / KMS Board of Directors, Secretary and Treasurer
Karen has been a familiar face around Khalsa School since the early 1980's. She began as a young parent, PTO Board member and finally a staff member, substituting at every campus in the Khalsa School system in the 1990s. Her three daughters have all graduated from Khalsa School. In addition to her role at Khalsa School she enjoys gardening, cooking, yoga and meditation. She is a certified Kundalini Yoga Teacher.
She graduated with a Bachelor's degree from Millsaps College in 1977 and worked as a VISTA volunteer before moving to Arizona in 1979. She worked in the medical field and administered a multi-site primary care practice for eleven years. She has completed graduate courses in business and education. In 2002, Karen completed her AMS certification as a Montessori Middle School teacher at the Houston Montessori Center.
As the Director of Admissions for the charter elementary and the private primary/toddler schools, she coordinates the application and registration process for both campuses. She is the primary contact for communicating information about Khalsa School to prospective parents as well as maintaining effective contact with them throughout the year. She also conducts tours of the school for prospective parents.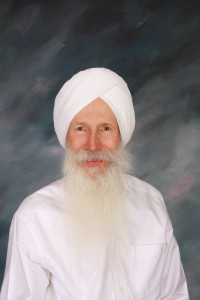 Satwant Singh Khalsa
KMS Board of Directors, Member
Satwant Singh Khalsa is the former Director of Khalsa Montessori School and served as the Finance Director and Treasurer of the Board of Directors. Satwant was the Director of the Khalsa Montessori School from 1980 until 2012. Since January of 2010 to December 2015, Satwant worked with Keerat Giordano and the Khalsa Montessori Education Administration Team to create a successful transition to new Khalsa Montessori leadership.
Satwant received his B.A. in History and Child Development, graduating Phi Beta Kappa with honors, from Stanford University. After teaching preschool children in Mountain View, California, he came to the Khalsa School in 1973. Satwant directed the Primary and then the Toddler Program from 1973 to 1976 and was the school administrator from 1974 to 1976. After leaving the school and building his own business for four years, Satwant rejoined the Khalsa School as Director in June of 1980. Satwant received his M.A. in Educational Psychology from Arizona State University in 1987 and completed all the course work towards his Doctorate degree. He taught in the Department of Educational Psychology at ASU for three years and his research study on the development of ordering skills in young children was presented at the 1988 Annual Convention of the American Psychological Association. In 1996, Satwant was one of the founders of the Khalsa Montessori Elementary School, our charter elementary school. Satwant enjoys hiking (he has hiked the Arizona Trail) and photography and he looks forward to having more time to take photographs at Khalsa for all to enjoy.
Bryan Murphy
KMS Board of Directors, Member
Bryan Murphy is a Community Representative and former parent representative on the KMPS and KMES Board of Directors. He has a B.A. from Yale University and received his J.D. from the University of California, Berkeley. He has practiced law with a Phoenix firm since his admission to the Arizona Bar in 1980. His two children have both attended the Khalsa School.
Lindsay Caglio
KMS Board of Directors, Member
Lindsay Caglio is currently one of the lead teachers for upper elementary. Lindsay joined the Khalsa family in 1986 as a toddler student. After working for Khalsa three summers during high school, Lindsay attended the University of California at Berkeley where she received degrees in English and Italian studies. Lindsay joined the Khalsa Montessori staff in the fall of 2006 as the Lower Elementary East Assistant Teacher. In 2007-08, she became the Upper Elementary North Assistant Teacher. In 2008-2009, she became an Upper Elementary Lead Teacher. Lindsay completed her Montessori Elementary training through CMTE in New York.
Sara Park
KMS Board of Directors, Member
Sara is a Parent Representative on the KMPS and KMES Board of Directors.
Dr. Sara Park has served as a parent representative on the KMES and KMPS Board of Directors since 2013.  She has 2 children that have attended Khalsa.
Dr Park received her B.A. from the University of Chicago, and her MD from the University of Chicago, Pritzker School of Medicine.  She completed her residency at the Phoenix Children's Hospital & Maricopa Medical Center Pediatric Residency Program in 1995.
She practiced and taught clinical pediatrics to students from the University of Arizona as well as Residents at the Phoenix Children's Hospital/Maricopa Medical Center Pediatric Residency Program at Maricopa Integrated Health System (MIHS).  Her special interests include underserved and vulnerable populations and she initiated the Pediatric Refugee Program at MIHS.  Dr Park is also a Clinical Assistant Professor at the University of Arizona, Department of Child Health.
In October of 2015 she joined the Comprehensive Medical and Dental Program (CMDP) at the Department of Child Safety as a Medical Director.  Her current position as a Medical Director at CMDP is right up her alley, as she has been able to continue her dedication to serving vulnerable populations, by working with and for the children in out of home care.
Liz Bernreuter
KMS Board of Directors, Member
Liz is a Parent Representative on the KMPS and KMES Board of Directors.